30 Perfect New Year Wishes for 2021!
A new year is a powerful occasion: It's a time when we reflect on our gratitude for the past and our hopes for the future. And it's a chance to welcome a fresh start to reinvigorate our enthusiasm for chasing goals and dreams. With so much pressure on the moment, it can be hard to come up with just the right words to express new year wishes for friends, family, and cherished co-workers. (That can be especially true if the past year's challenges still linger for your loved one.) But we're here to help: Strike just the write note with these new year wishes, thought starters, and famous quotes for anyone on your list.
New Year Wishes for Spouses or Partners
Every year with you is the best one yet… cheers to many more.
Here's to making more cherished memories in 2021!
I'm so proud of all your accomplishments this year — and I just can't wait to see what you do in the next.
Whatever the new year has in store, we'll be in it together. Happy new year to the love of my life.
The best thing I did this year was fall in love with you. Cheers to making more memories together in 2021!
Whatever the new year brings, I know I'll achieve my goals with you by my side. Happy new year to my forever love!
Time flies when you're with the love of your life. Cheers to another year together — and forever to go!
New Year Wishes for Friends
New year, new adventures with my best friend. I can't wait!
In an extraordinary year, I've been grateful for your extraordinary friendship…. thank you. And cheers to new beginnings!
I'm so grateful for your support and love this year. Here's to many more years of friendship!
Here's to another year of making memories with you, my cherished friend. Happy New Year!
Friends are the family we choose for ourselves. Cheers to another year of sisterhood.
You deserve all the best: May all your wishes come true in 2021!
The future is your story to write… make next year the best one yet.
New Year's Day is the first page in a blank book: Write a phenomenal story!
May all your wildest dreams manifest in 2021. You got this!
New year, new start. May all your dreams come true in 2021!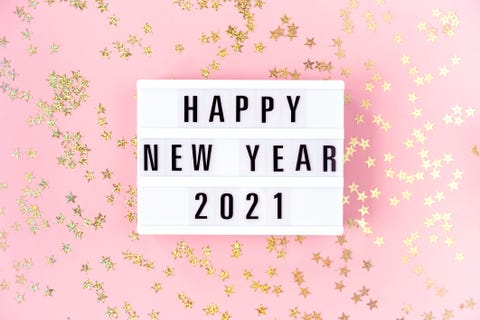 FIORDALISOGETTY IMAGES
New Year Wishes for Your Boss or Co-Workers
Cheers to more shared successes in the new year!
Wishing you and yours some well-deserved downtime and a very happy new year to come.
Cheers to health, happiness, and prosperity in 2021!
Wishing you and yours a safe, healthy, and prosperous new year!
Wishing you and yours a happy, healthy, and abundant 2021!
Famous Quotes to Use as New Year Wishes
"In our perfect ways. In the ways we are beautiful. In the ways we are human. We are here. Happy New Year's. Let's make it ours." —Beyonce
"Kindness, kindness, kindness. I want to make a new year's prayer, not a resolution. I'm praying for courage." —Susan Sontag
"The future belongs to those who believe in the beauty of their dreams." —Eleanor Roosevelt
"This is a new year. A new beginning. And things will change." ―Taylor Swift
"For last year's words belong to last year's language. And next year's words await another voice." —T.S. Eliot
"It is not in the stars to hold our destiny but in ourselves." —William Shakespeare
"The beginning is the most important part of the work." —Plato
"No matter how hard the past is, you can always begin again." — Jack Kornfield